The Azerbaijani face of Georgian protests: Who are Samira Bayramova and Jeyhun Muhammadali, where do they come from, and what led them to this?
The discussion in the Georgian parliament of the "Foreign Agents" bill, which opponents called the "Russian law," led to outraged Georgian people taking to the square in front of the parliament building in Tbilisi in early March of this year.
Neither the cold weather, water cannons, nor tear gas used by the riot police against peaceful people who were only voicing slogans, broke the protesters' resistance – they went home, changed clothes, and returned to the square. As a result, the ruling party "Georgian Dream" was forced to withdraw the bill.
These protests, during which various events and incidents took place, are remembered, among other things, for the following: on the one hand, two deputies who are ethnic Azerbaijanis, Zaur Dargally and Savalan Mirzoyev, signed the bill, and on the other hand, Azerbaijani activists participated in the protests, two of whom spoke from the podium in their native language. They are Samira Bairamova and Jeyhun Muhammadali. What do we know about them?
34-year-old Samira Bairamova is a civil activist and human rights defender. She was born in the village of Algeti in the Marneuli district of Georgia, where ethnic Azerbaijanis live compactly. She received her secondary education at a local school, then studied law at the Tbilisi European University. Later, public processes and her own reflections on this matter prompted her to obtain a second education. So she entered the faculty of social and political sciences of Tbilisi State University, after graduating from which she received a master's degree in public administration from the Georgian Institute of Public Affairs (GIPA).


The First Spark
"The first person who motivated me to engage in social activism and make a change was my teacher in school. In fifth grade, I constantly protested against injustice or social issues. The roads in our village were in terrible condition, and the transportation system was poor, so I sometimes arrived late for classes. I was outraged by this and, of course, justified my indignation," Samira recalls. "And once, my Azerbaijani language and literature teacher, who played a very big role in my life and education, told me, 'You can change everything yourself. You are such a brave girl, study well, get a higher education, and change everything in the future.' This was the first time that motivated me and instilled confidence in me that a person can change everything and that he is capable of everything. Villagers always repeat that a person born in the village has no prospects, and the maximum that he can achieve is to become a school teacher or a doctor. They do not even give us the opportunity to think beyond these limits, impressing upon us that those born in the village can only dream of small things and live with these small dreams."
But Samira managed to break free from these limits – both in dreams and in reality.
What is it like for a woman to be an activist and public figure?
Samira, who realized the power of protests at an early age, also discovered the truth early on: protests are not easy.
"Since childhood, I have seen all these norms: you cannot argue with your parents, and you cannot have your own opinion. But sometimes a person has a special feeling – a feeling of justice, a feeling of truth. And this does not allow you to remain silent. It does not allow you to submit to anyone – neither family nor society. This is the same feeling that brought me to where I am now."
Samira received the most support from her father in the family and never faced any prohibitions in pursuing her desires: "My father never hindered me in getting an education, working, or engaging in public activities. He only asked me to be careful."
But unlike her family, the community in which Samira lived provided her with no support whatsoever. The activist says that for her fellow villagers and the residents of their region as a whole, it seemed unusual that a woman could be active: "There were few examples of this, so locals found it unacceptable. They tried to influence me and my family and opposed my desire to change society, and this resistance continues to this day. But for us, these are barriers of a kind, and if we lived in another country, we might not have spent so much energy and resources overcoming them."
Samira considers her struggle with her environment in some way her destiny, although she does not hide the fact that it is sometimes very tiring and traumatic.
Face-to-face with the crowd
Samira Bairamova has been involved in public activism for about 15 years. She has good working relationships with Georgian organizations and public and political figures. Her active public activity, constant work to protect the rights of ethnic minorities, and participation in the construction of a tolerant, democratic, and equal society have led to her being invited to speak at a rally.
"In general, when it comes to ethnic Azerbaijanis in Georgia, they always remember me, and that's why I was invited to speak at the rally. Here, public activists, people from different fields, lawyers, doctors, and cultural figures spoke to the people, explaining why we should continue on the path of European integration, and why it is important for us. Azerbaijanis make up one of the largest ethnic minorities in the country, and I, being an Azerbaijani and one of them, also addressed my people."
Although the event took place in Georgia, Samira spoke in Azerbaijani, even though this did not sit well with some radical groups.
"They do not accept, do not want to accept ethnic and religious minorities, aborigines, their language, their religion. But this is not a mass phenomenon. People in Georgia are already sufficiently informed about the culture, traditions, and selfhood of ethnic minorities."
The invitation to speak at the rally was also a difficult challenge for Samira.
"To be honest, it's not always easy to speak in front of such a huge crowd. Seeing so many people, so many emotions, and being in the midst of it all is a truly unique experience. Sometimes it's difficult. You want to say one thing, but end up saying something else, using the wrong expression you intended, and it can determine your fate. But I think it all worked out. At that rally, I wanted to convey to the public that we, Georgian Azerbaijanis, are equal citizens of Georgia, this is our homeland, we were born here, and regardless of whether some people want to accept it or not, we have all the rights in this country. There were groups that did not accept us, there were and are, but my speech at that rally shows that we are present in Georgian society, in Georgian history, we exist and will continue to exist. Of course, it was a great honor for me to speak at the rally in my native language. Language is my only identification, and it is a great responsibility to preserve it. Overall, as an Azerbaijani, I love my language very much and always enjoy speaking it."
Speaking to her fellow countrymen from the steps of the Georgian parliament, Samira wanted them to hear about the events happening in Georgia in their own language and to feel some kind of kinship and involvement in what was happening:
"It was an interesting day, full of emotions, full of love, full of success, full of motivation. After this, many people contacted me, and we met with many of them. And to see the joy and smiles on their faces was a victory for me."
The First Protests…
Samira started participating in mass protests in 2015-2016:
"My social activism began with children's rights, and specifically with the issue of early marriages. People in our region had never even thought to protest against this. On the contrary, they wanted to make this tradition the norm, make it mandatory. And when we started to speak out against it, people didn't like it. We discussed this problem not only at the local level, but also raised it in central media, TV shows, and attracted attention to it in every way possible. And those who were involved in such crimes tried in various ways to pressure me and damage my reputation."
Despite the ongoing pressure and threats, the activist continues to fight against early marriages in her region:
"We learned that an eighth-grade girl was being forced into marriage. Together with journalists, we went to her home and school. In response to this, the girl's parents and fiancé came to my house and attacked me. Even during this attack, I tried to explain to them the harm of early marriages."
The fight against early marriages provoked a slanderous campaign against Samira:
"Fake accounts were created in social networks in my name, through which ill-wishers tried to create a negative image of me. For example, they used expressions that, from society's point of view, are unacceptable for an Azerbaijani woman. They knew that this affected people's opinions. In a society like ours, a woman's moral image is very important. This is the direction in which they conducted their 'undermining activity.' Perhaps it worked on some people, but not on others.
Or, for example, hospital doctors also tried to harm our image. Because early marriages lead to early pregnancy and childbirth. This is where the doctors' responsibility begins, so they, in turn, tried to cover it all up. Sometimes we were also condemned by school teachers, and it was very unfortunate that people recognized for teaching and enlightening supported the guardians of this tradition and covered for them.
They instilled in the public that I learned the Georgian language, integrated into it, became Georgianized, and wanted to hinder the development and reproduction of my people in Georgia. That I am an enemy, an agent, recruited by Georgians, and that I hate my people. This is the image they tried to create for me. They did not understand that by destroying the life of one child, they destroy the future of the entire nation."
"Russian Law" and Georgia
"In Georgia, we are now at a stage where attempts are being made to reject Western values. Of course, for modern Georgia, this is a very difficult test, a difficult exam. It is very difficult for people who were born and lived for many years in a democratic, free country to return to Russia and be under its control again. Therefore, thousands, tens of thousands of young people who participated in the protests changed their destiny, forced the government to stop discussing the bill and withdraw it. It happened. Both society and the government realized that a new, unfamiliar society had formed, and they should be cautious in all matters," says Samira Bayramova.
She adds that she also tries to create conditions for other young Azerbaijanis to participate in the social-political life of the country: "As a social activist, I try to involve Azerbaijani youth in these processes so that they can also be active in these processes. We indeed have a very capable and talented youth."
The activist says that Azerbaijani deputies in the Georgian parliament currently hold only a symbolic place and do not benefit their people: "Perhaps those who are watching from the outside are happy that there are Azerbaijani deputies in the Georgian parliament and that the mayor of the city of Marneuli is Azerbaijani. But do these people bring any benefit to society and the nation? No. Sometimes I even want them not to exist at all because they only interfere with our work."
Novruz Diary
"In 2021, for the first time, I presented a bill to the Georgian parliament to declare Novruz Bayram a non-working day. For the first time in Georgia, ethnic Azerbaijanis wanted to change something through the legislative body. And the first person to speak out against our initiative was an Azerbaijani deputy. Zaur Dargally saw this as a major problem, a threat, and suggested not to discuss this proposal. They argued that Novruz Bayram is a religious holiday and only Georgian Christian holidays can be celebrated at the state level in Georgia. Of course, this decision contradicts the constitution."
Samira Bayramova considers this step absolutely wrong for a country aimed at European integration and adds that just on the day of Novruz Bayram she was supported by MP Tariel Nakaidze, who is not an Azerbaijani, but a Georgian. 
"Speaking in parliament, he said that we must try to ensure that Novruz Bayram, which is a holiday for ethnic minorities living in Georgia, receives an official status and is declared a non-working day. That national minorities have a right to it. During the pandemic in Georgia, curfews were lifted on some holidays. On behalf of the Azerbaijani community, we appealed to the Parliament with a request to lift the curfew for Novruz Bayram. Before that, there were several precedents, and the statistics of coronavirus infection decreased. That is, there were enough reasons for us to celebrate the holiday without a curfew."
But the Georgian government refused this request and forwarded it to the Agency for Religious Affairs.
The activist considers this decision wrong and says that at that time a special council was created to consider this issue:
"Georgian Ombudsman, many representatives of the social and cultural sector, oppositionists, on their own behalf, appealed to the authorities with a request to lift the curfew for ethnic minorities, because they have the right to do so. But despite all this, the curfew was not lifted. And it was both an insult and a violation of civil rights. On the eve of the holiday, I stated on my social network account that I would still celebrate it during the curfew. After that, Georgian activists, and public figures contacted me and asked if I was really going to break the curfew, and if so, they were ready to join me. Activists from Gori, Kutaisi, Rustavi, and Tbilisi came to support me."
Although Azerbaijani activists did not participate in the festive action, but the central media covered this action and broadcast it live, after which the population of Marneuli joined it.
"My friends and I celebrated the holiday, and at the same time, it was a struggle against the application of double standards against us, equal citizens of Georgia. And we won this fight. It was a message to the authorities, violating our rights, and placing restrictions on us. It is also curious that usually during the curfew, there were policemen every two meters, and on that day they disappeared somewhere. No one was detained, and no one was fined. It was a historic day in its own way."
Samira Bayramova lists a number of factors hindering the integration of ethnic Azerbaijanis into Georgian society:
"The events of the 1990s, which had a strong negative impact on the Azerbaijani people, the force used against us, "Georgia is only for Georgians, let the rest go away," and other statements of this kind – some still remember all this. This also had practical implications. Hundreds of Azerbaijanis were expelled from their homes. Moved to other countries. There was also a feeling of fear, which also interfered with integration. And, unfortunately, the Georgian government has not been able to heal this wound. There has been no political activity to clear people's minds of this."
According to Samira, people still have this kind of thinking, and even the state itself does not know enough about its ethnic minorities, and its citizens: "When ethnic conflicts happen here, they are always resolved through reconciliation through the Koran, and not according to the law. They do not want new conflicts to arise, but this should not be so.
Samira Bayramova emphasizes that being an active woman is by no means easy either in Azerbaijani or Georgian society, and this comes at the cost of great difficulties.
"Starting to engage in activism, I could not even imagine that I would go such a path and achieve such success that we could change a lot around us, and reveal many truths. I could not even imagine that hundreds of Georgian friends would be next to me today, and society would accept me as their own. This is what invariably touches me and fills me with pride," says Samira Bayramova.
_______________________________________________________________________
Jeyhun Mukhammedali, 35, was born in Rustavi but grew up in the Marneuli region and now lives in Tbilisi. Graduated from Tbilisi State University, has been working in television since 2016. Since 2018, he worked on the Rustavi-2 TV channel, later, together with the team that left this channel due to the intervention of the Georgian authorities, he created the opposition channel "Mtavari Arxi" ("Main Channel"), on which he currently works, calling it a new breath of Georgia.

Be the eyes and ears of the people
"Journalism should be critical, nothing else. Being a journalist means being the eyes and ears of the people, telling them what is going on behind the scenes. And to tell what people already see is not journalism. A real journalist is to convey to the people what they do not see. Today in our country it is impossible not to be a critical journalist," says Jeyhun.
Before joining journalism, Jeyhun was engaged in social activism, and due to financial difficulties, he received his higher education only at the age of 24.
"I was at a crossroads, I didn't know what to choose: philosophy or journalism. I consulted with a close friend. He asked: who do you feel inside? I replied that I want to visit hot spots, I love discussions, discoveries, and scandals. To which he said: well, then choose journalism. So I did, and so far I have never regretted it.
"Swear on bread that you won't vote for the opposition in the second round"
Jeyhun says he faced pressure as soon as he entered the path of journalism:
"It should be noted that there has never been critical journalism in Kvemo Kartli, and even the central media could not cover the problems of the local population. Because the central media visited this region – the place of compact residence of Azerbaijanis – only on holidays or when something criminal happens, someone kidnaps someone or something like that. Social, economic, and cultural issues were not covered. When I started working on the Rustavi-2 channel in 2018, I was already aware of all these problems.
First of all, there were problems with the coverage of the elections. It was the first pressure I faced and my first standalone story. It was about what methods the government uses to falsify the results of the elections. Before the second round of the presidential election, local coordinators of the ruling party went from house to house and put pressure on voters. In the first round, they had an incident: they paid certain people to bring others and vote "for whom it is necessary", and in the end, everyone voted for the opposition. And then they decided to use such a trick – they made people swear on bread that in the second round they would not vote for the opposition.
There was even an audio recording from Gardabani [another Georgian region densely populated by ethnic Azerbaijanis – ed.]. author]. The deputy head of the executive branch there was an Azerbaijani. It was he who taught the coordinators to force people to swear on bread. But someone was not at a loss – he recorded the conversation on a dictaphone and this record was sent to me. After that, we started a journalistic investigation. I called those who were involved in this case. They thought I was calling from the government and posted everything. And having understood what was happening, they began to put pressure on me. Like, if this gets on the air, we will beat you, kill you, all that. After the story went on the air, we turned to the Ministry of Internal Affairs. The office of the ombudsman intervened, published this story, and said that the case should be investigated. But almost five years have passed, and the investigation has not moved.
Jeyhun Mukhammedali, who has already become famous in Kvemo Kartli as a journalist, reports that after that incident, seeing that the voice of critical journalism was heard from the region, the authorities began to fuss. They did not exert direct pressure, but in a roundabout way, they tried to influence him. 
The next election scandal took place in Bolnisi, where the vast majority of the population is also ethnic Azerbaijanis:
"A municipal deputy from the Georgian Dream party said that he would give me a drink when the elections are over. This was caught on camera. We filed a complaint, but that deputy is still in office."
"I walked a little and fell unconscious"
While covering the fraud during the parliamentary elections, Jeyhun also faced physical pressure. So, according to him, during the 2020 elections, representatives of the ruling party beat opposition representatives at night. All this happened near the office of the ruling party:
"I covered it live. And then they attacked us, beat my cameraman, and broke the camera. Someone hit me from behind, it seems, with something metallic, and crushed my head. Somehow I managed to get out of there. I felt that, after that first blow, several people were kicking and punching me. I ran away from there, walked a little, and fell unconscious. After that, such a mess began … And, by the way, the police were standing about 20 meters from us, but did not intervene.
The European Union presented Georgia with a list of 12 points that the government must fulfill. Among these points is the implementation of electoral reform, but so far no reforms are noticeable. After the elections, there was sharp criticism from the European Union that this state of affairs needs to be changed. The point is that there are serious problems in the opposition. In particular, the problem of unity. Georgian Dream managed to achieve this by certain means and methods, creating a split within the opposition. The Georgian Dream party did not strengthen, but, on the contrary, weakened, but in parallel with this, the opposition parties also weakened. That's the problem.
I think, in order to divert attention from these 12 points requirements, Georgian Dream plays various performances. Whether it's "Russian law", Mikheil Saakashvili's state of health, or something else, with all this they seem to want to push the issue of fulfilling the requirements of the European Union into the background. But the demand remains the demand. If you want to enter the European Union, you want to get the status of a candidate, you must fulfill these 12 points. Instead, we hear some stereotyped words."
"Our strength and future lies in our diversity and unity"
"I participated in all rallies related to the development and future of the country. And I am grateful to the leadership of our TV channel that it did not forbid me to do this. As an employee of one of the leading Georgian channels, at the same time, I am also a representative of the Azerbaijani ethnic minority living in Georgia, the voice of this minority. And my leadership has always taken this into account. My first speech at a rally happened in 2022 when Mikheil Saakashvili returned to Georgia. When a rally of many thousands took place in Rustavi in ​​connection with his arrest, I also wanted to speak out at it. Then there was a mass action in front of the parliament building, and I was there too. And, finally, he spoke at an unprecedented rally against the adoption of the "Russian law". I thought that hundreds of Azerbaijani students were participating in this rally, but their voices were not heard. And speaking on their behalf. Both Georgia and the whole world should know that the Azerbaijanis living here also have a voice and rights and that they also have the right to choose. And they can voice this choice.
They can go to the podium and speak openly. I went out and spoke in Azerbaijani so that our language would reach their ears. So that they know that Georgia is diverse, different people, different nations, and different religions live here. Our strength and future lie in this diversity and unity. And in my speech, I conveyed that it is precisely this unity that the Georgian government is afraid of."
The journalist believes that Azerbaijanis living in Georgia are interested in politics and in recent years vote more for the opposition in elections:
"Starting from 2014, Azerbaijanis began to openly show their position. And the majority of their votes are received by the opposition, we were witnesses of this. Before, the people voted for the authorities, just as massively. But after 2014, the people had self-awareness. Certain changes have taken place, it must be acknowledged. Another important factor is that citizens gradually begin to feel that their voice plays a decisive role in certain processes. Since 2014, there have been several leaders. Literate, illiterate – not the point. But these leaders were able to lead the people. However, after some time, these leaders disappeared. And this was due to the internal problems of the opposition. After these leaders left the scene, the people lost hope and confidence."
"Why did I oppose the "Russian law"?
"They told everyone: baby, do not interfere in politics, politics is not for you. But it is those who say this who play political games themselves and make these young people the victims of politics. But the more we will be present in politics, to speak our word in the political arena, the more useful it is for our development and future."
Jeyhun says that many critical youths have appeared, that before no one criticized the deputies, and now many young people do it.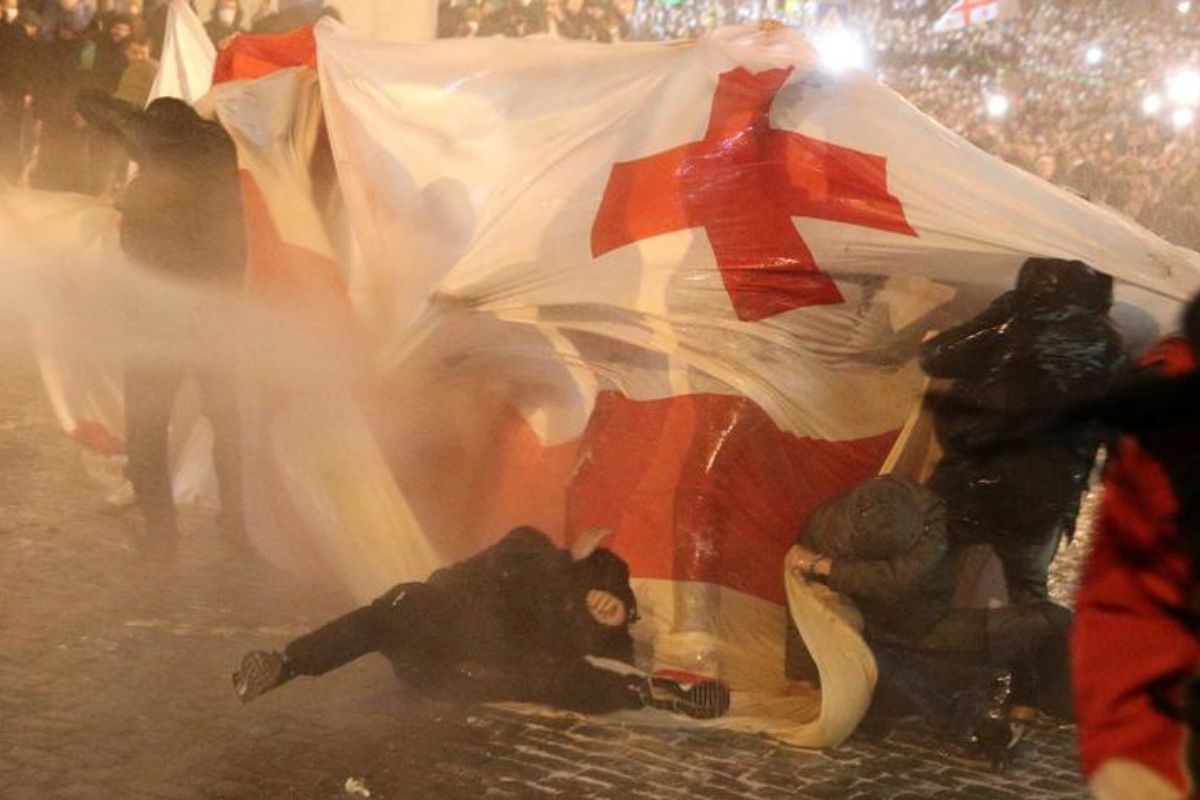 "Why was I one of those who opposed the "Russian law"? Because today European and international organizations play a huge role in the development of Azerbaijani youth in Georgia. The Georgian government has not yet done anything in this regard. Whether it be religious or ethnic minorities, there is currently a free advocacy program in the regions that protect the rights of people, entering into confrontation with the authorities when necessary. And if today there are a couple of young people who vote, then they are pupils of these organizations. And you clearly understand that this government does not want us to develop. By trying to pass this law, the system showed that it does not want the development of either Azerbaijanis, Armenians, Russians or anyone else, who, by the way, are citizens of this country."
"The government played no role"
"Fortunately, among my inner circle, there was no one who would dissuade me from competing with the authorities. On the contrary, my mother always tells me to be on the side of the truth and never be afraid that fear will not help me survive. To be honest, the government has not played any role in what I have achieved so far, but foreign institutions and our TV channels have played a big role. Thanks to their support, today I, an Azerbaijani, go out into the street and eight out of ten Georgians greet me, praise and thank me, and for me, this is, firstly, the will of Allah, and secondly, the help of the Georgian people."
Jeyhun, who maintains that the government played no role in its development, says he was further convinced of this in 2016-2018 while working as a simultaneous interpreter for Public Television:
"I wanted to stay there and work. The American embassy had such a program – multilingual news. I worked on this project for two years. But when people close to the Georgian government came to the leadership of the channel, I was kicked out of there. And the TV channel, which the authorities call oppositional, opened its doors to me. They created all conditions for me. I hope that in the near future, I will have my own broadcast on Mtavari."
"Red Bridge"
"We ourselves must take the first step towards some kind of change in the country," Jeyhun says. If you don't demand anything, then no one will care about you. The more demanding our youth will be, the more they will strive to get an education and prove themselves in all areas, and the more it will influence the process of change. Otherwise, nothing will change, no one is interested in changing something. Peace of mind is comfortable for everyone. Why would anyone bother you?"
Jeyhun Mukhammedali created the Red Bridge non-governmental organization in Marneuli, which, according to him, is designed to become a kind of symbolic bridge and play its role in deepening cultural ties between Azerbaijanis and Georgians:
"Our Red Bridge organization has initiated a project that introduces Georgian society to talented and educated Azerbaijanis. We especially try to talk about girls. Since Georgians have such a stereotype that local Azerbaijanis only sell tomatoes, cucumbers, and herbs, or they are engaged in early marriages. As if we have no other values. And we showed the reverse side of this. We showed that we have such an educated, loving motherland, attached to the motherland, who want to change their lives, guys, and girls.
The journalist plans to open a civic development school for the Azerbaijani youth of the region under the organization "Red Bridge". And for this, he received the support of the "Caucasian University", "Georgian University" and the University of Elijah:
"We are also supported by the Nika Rurua Foundation. Thanks to this, we now have a wonderful office in Marneuli, and we bought equipment and machinery. The Georgian elite played its role in all this. Meeting with each of them, I said that we want to change our future. And we want to show not only to Europe but to the whole world that Georgia is trying not only for the sake of Georgians but also to help the development of its Azerbaijani compatriots."
Today, the best specialists in Georgia conduct master classes in their offices. About 30 young people are currently participating in these courses.
"Georgian Dream" and European values
"Why do I not favor the Georgian Dream party and prefer Western-oriented politics? Everything is very banal and simple. The truth today is that the country must choose either the West or Russia. The average has not yet been given. I will not choose Russia for anything. I will not choose Russian politics, or Russian power, because my country has always been under Russian occupation. To this day, 20 percent of our lands are occupied by Russia. You see what they are doing now in Ukraine, I don't expect anything positive from Russia yet," says Jeyhun, adding that Georgia has headed for Europe since its inception.
"I am a supporter of one single ideology. I want all ethnic minorities living in Georgia, and, in particular, Azerbaijanis, to make their own independent contribution to the development of Georgia at all levels of government. If necessary, let there be an Azerbaijani minister or even an Azerbaijani president. For example, I agree: let a Georgian mayor in Marneuli, and an Azerbaijani in Gori, is this possible? Perhaps only the will is not enough. Let a Georgian be the chief of police in Marneuli, and an Azerbaijani in Khashuri, populated by Georgians. Then there will be a true democracy, true unity. Then I, being an Azerbaijani, will feel like a full-fledged citizen," Jeyhun says. 
Aitan Farhadova
With the support of "Mediaset"